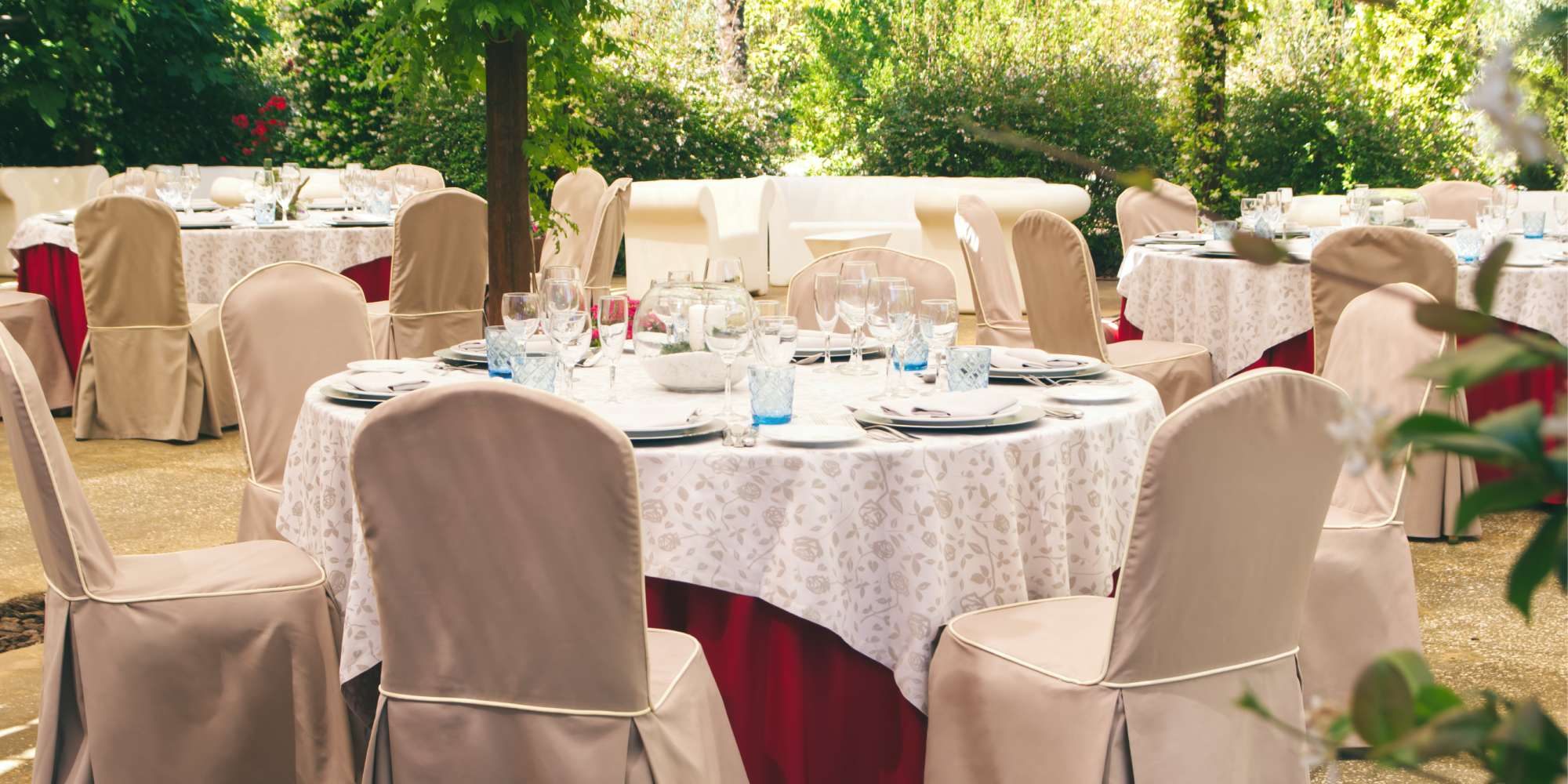 Wedding rooms and gardens for celebrations
Hotel Isla de la Garena offers different spaces to celebrate your event, whether is winter in our 5 meeting rooms, or summer in our garden areas. You will always find a perfect site for your celebration because our wedding rooms are modular, allowing to adjust the size to the number of guests.
Formentera I and II halls
Events rooms
Formentera I and II halls are ideal for intimate events, between 25 and 90 guests. They have a terrace and direct access to the garden area of the outdoor pool. They are decorated with paintings, hanging lamps and perfect air conditioning.

We usually propose these spaces to hold small family or business events, where the number of guests does not exceed 100. The Formentera halls represent a quiet, intimate space, decorated with a luxury style.

You can visit our facilities without any obligation, to know all the options of our halls and gardens and find out how to organise a successful event at Hotel Isla de la Garena. Our team of professionals will be happy to assist you and solve any questions or requests you may have for the celebration of any type of event you want.

Halls
Islas Baleares halls are the largest of the hotel. They have more than 500 sqm and can accommodate up to 300 people in banquet assembly. They consist of 3 rooms: Mallorca, Menorca and Ibiza.

They have access to the outdoor gardens and, as a peculiarity, they have a bar to attend the free bars for all-inclusive weddings taking place at our hotel.

Usually, these rooms are the ones chosen to celebrate weddings and if the weather permits, pre-dinner cocktails are held in our covered garden, a unique space in Alcalá de Henares.

They are also very popular rooms for smaller celebrations, such as communions or baptisms, for their natural light, high ceilings and beautiful decoration.


Gardens for outdoor weddings
If the weather allows, we can hold pre-wedding cocktails in the gardens of our swimming pool. It will be an idyllic place for your guests to be relaxed, chatting with each other and tasting the magnificent canapes that our chef prepares for the occasion.

If your idea is that the banquet is also held outside, we suggest you to taste our wedding menus in the outdoor gardens of the hotel. It will be as if you are dining in a tent but with the benefits of hotel services at your table.

The possibility of organising part or even all the event outside is a great option to surprise your guests and surround yourself with an amazing natural environment on one of the most important days.

Space for ceremonies
The hotel has a perfectly equipped area for you to carry out your dream civil ceremony. Your guests will wait for you and you will enter following the big red carpet to our temple, decorated with natural flowers, where the person in charge of officiating the ceremony will marry you, highlighting the best moments of your day.

The option of officiating your civil liaison surrounded by a natural environment, avoiding boring courts, is an unbeatable proposal to celebrate a successful wedding to remember for years.


Barbeque and pool for celebrations
Weddings outdoors
During summer months, our hotel has another singular space in Alcalá de Henares: our barbeque. Here you can choose typical grilled dishes (chorizo, black pudding, special cut, etc.) and access our outdoor pool where you can bath during the whole day until the closing time.

During nights we also open the barbeque with a more formal environment, candles in the tables, candelabra next to the pool and a more faint light, creating a perfect space to enjoy hot summer nights.